The Full Inclusion Of All People
(And we do mean ALL)
The Wonderful Diversity of God's People
We welcome you in your uniqueness, whether that is around your sexual orientation or identity, your economic status, the color of your skin, your culture or language, or your background - whatever your uniqueness includes.
The reign of God is wonderfully diverse, and when that diversity is represented in God's community, we are all the richer for it. Sometimes that diversity challenges us to be curious about each other, for one person's story is never the same as another's. Sometimes that diversity requires us to confess when we unintentionally hurt each other, and sometimes that diversity causes us to break out in joy, for the reflection of the fullness of God when we are together.
If you are looking for a faith community that isn't perfect, but is living into God's wonderful reign, then we invite you to experience the love and fellowship of this congregation.
LGBTQAI+?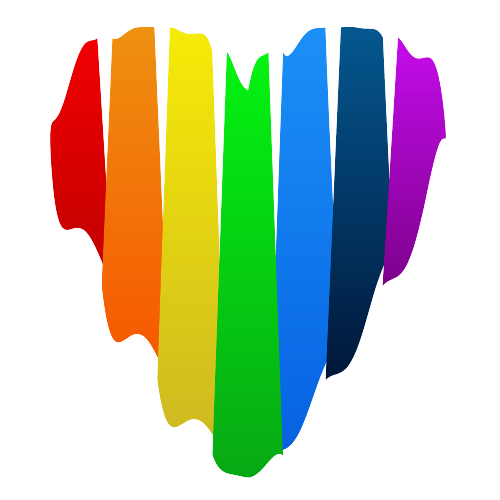 No matter what letter you identify with, or no letter, you are welcome here!
For too long LGBTQIA+ individuals have not found a welcome in churches.  Here you will, without exception.  You are free to be yourself as God made you.  You are welcome to be married here, to raise your family here, and to grow with us as followers of Christ.   Here you are welcome in leadership, and here you will be loved.
Pastor Sue's Story
Over many decades the Presbyterian Church (USA) struggled with the question of whether or not self-affirming, practicing homosexuals should be ordained, and later, whether same-gender marriage should be allowed.  I was called as the interim pastor of First Presbyterian in 2015 when the marriage debate was going on.
It was an interesting time to be here, as the church knew going in that I was in a same-gender marriage, and that it was important that I and my wife, Linda, be fully welcomed wherever we served.  At the same time, the session (the governing board of the church) wanted to have conversations with the congregation about whether or not they should allow same-gender marriages in the sanctuary.  Part of my job was to facilitate those conversations.  We invited in Mark Achtemeier, theologian and author of "The Bible's Yes to Same-Sex Marriage: An Evangelical's Change of Heart," to come lead an educational event on this topic.  The next step was for the session to make a decision about same-gender marriage in the sanctuary based on what they learned and conversation with the congregation about their thoughts.
Meanwhile (this is the fun part of the story!), the church was seeking a permanent pastor (I was the interim, or temporary pastor, there to assist them while they sought a permanent pastor), and they overwhelmingly voted to ask me to stay.  I was thrilled to say yes, which, as I told the session, basically meant they had effectively decided on the marriage issue without ever having to vote on it.  They agreed, and as a testament to this congregation, it has never been an issue since.  We are united in welcoming all people, regardless of how they identify, into our church family.  I can honestly say that Linda and I have been welcomed without reservation, and we are not alone in being the recipients of that welcome.
We invite you to come experience the love and fellowship that Linda and I have experienced at First Presbyterian Church, and to join us in ministry with Christ to our neighborhood, and beyond!
Pastor Sue Coller
~ Rooted in God ~ Open to Grace ~ Filled with Joy ~
Don't ask what the world needs.  Ask what makes you come alive, and go do it.  Because what the world needs is people who have come alive.   — Howard Thurman
An Apology
There is neither Jew nor Greek, there is neither slave nor free, there is no male and female, for you are all one in Christ Jesus.
Galatians 3:28
So many people in our world have been identified as "other" and rejected by the very people who are called upon to love them: the people of God. We, the people of God, have gazed upon some and deemed them "unworthy" to approach God and dismissed them because they don't love like us, look like us, dress like us, speak like us, move like us.
We know better.  We reject the misreading of scripture, the fears, rejections, and judgments of the past and celebrate that God has made each of us unique, and calls each of us to service.  We affirm the fullness of your personhood, however that is realized and expressed for you.  We say that unequivocally and publicly.
To the member of the LGBTQIA+ community,
the one who doesn't speak our language,
the individual dealing with depression or PTSD,
the homeless person who walks in from the street,
the parent whose child has a lot to say during worship
the one whose background is recorded in the court system,
the person who has been a victim of physical/mental/emotional abuse,
the person who has rejected God and now wants to search and ask questions,
the one who is confined to a wheelchair and finds no access to enter a house of God …
to any person who believes or experienced in any way that the people and houses of God have deserted them, rejected them, or made them feel unworthy of God's love, we say to you –
Our Hearts Break for You.  Our Spirits Cry Out to You.
We Apologize for the Rejection You Have Experienced in Any of God's Churches
You are Loved Here.
If you need an opportunity to talk about your own experience, or if you want to find out if we really mean what we say, let us know, and we will reach out to you.
Coveant Network of Presbyterians
We are a member of the Covenant Network of Presbyterians, an organization that seeks the full inclusion of all people – ALL people, LGBTQIA+, BIPOC, rich, poor, those with PhDs and those who dropped out of school – ALL people –  in the church and its leadership.  We believe that God's church is for everyone, and everyone is called by God to a unique ministry of love and reconciliation with the world.  Click their logo to go to their website.