We are a church where faith is nurtured, curiosity is encouraged, diversity is welcomed, and all are loved.
These aren't just words to us – they are essential to who we are, how we live, and where we are located. We are a church of Jesus Christ! Jesus loved without exception. He invited people to follow him, and took time to teach them, to help them wrestle with their questions. He even loved Thomas with his doubts. He famously ate with "sinners and tax collectors" and touched the untouchables. Everyone was welcome in his family. His love took the form of service to and with others. That is our model for our life together and in the world. That is what guides us as we build relationships and as we work side by side with each other and with our neighbors.
If this sounds like what you're searching for, there's a place for you here!
Want to know more? Browse our website, or fill out a Connection Card and let's talk!
MORE ABOUT US
We are a very loving and flawed group of people. We try to walk in Christ's footsteps, and sometimes we do well, and other times not so well. It is actually those times when we don't do so well that are the most important for us, for when we become aware of how we have failed to love as Christ loves, we have an opportunity to look at ourselves and learn from that, which helps us to not only deepen our own faith, but to enrich our relationships with others. I'll be honest – if you are perfect, this may not be the right church for you! You may become frustrated with our imperfections. But if you are simply needing a place to accept you as you are, if you are looking for a church home where you are loved in spite of your flaws, if you are looking for people who share your journey, and if you want to be a part of something special, then there's a place for you here.
What else will you find? You will find a unique collection of people who come from different places, speak different languages, love differently, think differently, and who have vastly different ideas and opinions, and yet still come together to worship, to work, to care for each other, to learn, and to make this world a better place. If that speaks to you, then there's a place for you here.
Click the WATCH button to watch a video about who we are.
We are a neighborhood church.  Many years ago, as other churches were moving out of the downtown area, we made the decision to stay.  This neighborhood has been our home for over 150 years, and we could not imagine leaving it.  Even though the neighborhood around us has changed dramatically since we were founded over 150 years ago, it is still our neighborhood.  
Like any church, we are called to be a sanctuary and a crucible for the faithful, and a light to the world.  What does that look like for us today?  How is God calling us to grow in faith, in service, and in relationships, right where we are at, in the 21st century?
THIS is what it looks like:
Meeting the real needs of people – REAL needs, not what we think people's needs are.  We are focused on building relationships and working in partnership with people? 
Building a strong, inclusive church community, where people from all backgrounds, cultures, economic status, sexual orientation or gender identity, political viewpoints, etc.  have a voice, know they are valued, can participate and have leadership roles.  Together we reflect the rich diversity of God's beautiful creation, and many voices help us hear more clearly how God is at work among us.
Being a neighborhood church.  We not only welcome our neighbors into the church space (whether virtual or physical), we reach out to our neighbors, build relationships, and create community to work together for the common good.  The church isn't an island – we are called to be at the center of community life – for the community.
Nurturing a strong faith that changes lives. We join Christ in making this world a little more like the kingdom of God, where the abundance of God's gifts are available to all people, where God's distributive justice is shared among all, and where we work together to share God's love, grace, forgiveness, mercy, and life, with others.  We are called to nurture a faith that changes lives – ours and those around us.
Be a part of something special – join us on the journey!
VALUES that Weave through Everything
Nurturing Faith:  Faith is a journey.  What we understand about God and what it means to follow Jesus Christ is a journey.  Someone new to the faith will have very different questions than someone who has lived and breathed the Christian faith for their whole life.  We help each other on that journey, and even those who are well steeped in the stories of our faith and who have put their faith into action in the world, have much to learn from the questions and stories of those just starting out.  One of the rich gifts of our church is having many who are at different places on their journey, so we can help each other grow deeper in relationship with God, and put our faith into action in service.
Curiosity: We do not check our brains at the door – we encourage all to ask questions, to come to their own conclusions, to explore doubts, and to grow in conversation with others.  This curiosity extends to the scriptures, to each other, and to the world we live in.  We welcome explorations of Biblical interpretation, science, the issues of the day, and anything else that helps us ask good questions about who we are, who God is, and how to live responsibly in the world and in relationship with other as people of faith.
Diversity: No matter our background, our cultural practice and history, our economic condition, our politics, the color of our skin, sexual orientation or gender identity, etc., together we are richer for it.  Diversity is a wonderful gift in that we learn from each other more about ourselves, more about what God is doing among us, and more about where God is calling us to put our faith into action.
Love: All are loved, following in the example and spirit of Christ – no exceptions.  We are all imperfect human beings, but perfectly loved by God.  So grace is a large part of what we offer each other, recognizing, as the Apostle Paul said in the Book of Romans, we all sin and fall short (Romans 3:23).  Grace is truly only possible where there is love, and you will find both here.
 We do all this with Boldness: "For God did not give us a spirit of cowardice, but rather a spirit of power…" (2 Timothy 1:7)  That means we are not afraid to try new things, or to boldly declare what we believe.
Our Beliefs & What It Means to be Presbyterian
We are a congregation of the Presbyterian Church (USA), a denomination with a rich history of faith and works.  We believe God calls us to live out our faith in community, which means we support each other, and at times we wrestle with each other, for there is a broad range of beliefs about God and what it means to follow Jesus Christ within our denomination.  One of the strengths of the PCUSA is that we allow everyone the freedom to study and explore their faith, for we believe God speaks to all people, and not just the pastor.  So when you come to worship or listen to a sermon, you will not hear the pastor say "you must believe this."  Rather we invite you to listen, to question where you need, to wrestle with uncomfortable ideas, and to work out your beliefs together in community.
We are a connectional church, which means we believe God calls us into community – not just of a single church, but a community of churches as well.  None of us has to figure out faith alone.  None of us has to face challenges alone.  We are there for each other in the local church, and we support the rest of our congregations as well, for we are all one in Christ, and we are all called to work together for good.  We have a Book of Order that guides our communal life, and a Book of Confessions, containing statements of faith written over the span of 2000 years that guide us as we consider our beliefs about God, about the world, and about our role in it.
At First Presbyterian Church, we welcome people wherever they are on their faith journey, and whatever their beliefs.
These are some beliefs that are central to who we are:
We are unapologetically a Christian Church.  Jesus Christ is the head of the church, he is at the center of our life and faith, and it is his teachings and example that guide our living.
We hold scripture to be authoritative for our lives.  The ancient words of faith matter to us, and they guide us as we seek to live faithfully.  We study the historical context of the stories, we seek to understand what it meant at the time it was written.  We recognize that many of the issues we struggle with today as a society look different than issues in the days the various scriptures were written, so we take seriously the challenge of wrestling with that those those ancient words mean in today's context so we can apply the teachings of scripture to our lives today.
Sin is  real.  Sin, said the 16th century reformer John Calvin, is pride.  It is placing our trust in ourselves, and not God.  It is wanting to be in charge of our own lives, instead of recongizing that we belong to God and to each other.  Sin can also be defined as that which separates us from God.  We recognize that we all sin, and therefore the grace, forgiveness, and mercy of God is a gift we treasure, and a gift we seek to share with others.
We believe salvation is both a gift and a responsibility.  And we have different ideas of what that means.  For some people salvation means a time when this world as we know it will be destroyed and God's perfect world will be established for all eternity.  For others, salvation is about creating that world in partnership with God right now.  You will find both understandings present in this church.  No matter how you understand it, we believe salvation is both a gift from a loving God who claims us as God's own for all time and beyond, and a responsibility to work out in our daily lives.
We believe God loves us unconditionally.  The sacrament of Baptism celebrates that, and in baptism, we respond to the grace of God who loves us no matter what and who claims us as God's own, even before we are able to understand who God is.  We practice both infant and believer (adult) baptism.  Infant baptism emphases God's choice for us.  When child is baptized, their parents take responsibility for the child's faith until that child is old enough to claim that faith for his/her/their own.  Adult baptism emphasizes our acceptance of God's choice and commitment to discipleship.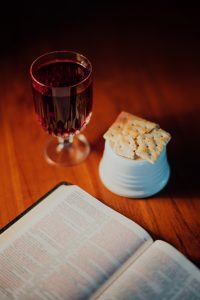 We believe the sacrament of the Lord's Supper (communion) is central to our life together.  Jesus tells us that he is the vine and we are the branches.  It is through our connection with him that we live and move and have our being.  In communion we share to Christ's life, and we are empowered to go out in his name.
We believe that God calls all people.  Those who identify as other, male and female are all called by God to service in and through the church, including to leadership positions.  In particular we celebrate that God calls those who identify as part of the LGBTQIA+ community.
We believe we are called to service.  Faith isn't just a personal relationship with Jesus Christ, we are called to be disciples, going out into the world, sharing our faith in personal relationships, and acting on our faith in the public sphere.  In other words, we believe we are called to service for the sake of the whole world.  We are called to be a light.
AN INCLUSIVE CHURCH
We are a member of the Covenant Network of Presbyterians. The Covenant Network of Presbyterians is a broad-based, national group of clergy and lay leaders working for a church that is simultaneously faithful, just, and whole. The Covenant Network seeks to support the mission and unity of the Presbyterian Church (USA); articulate and act on the church's historic, progressive vision; work for a fully inclusive church; and find ways to live out the graciously hospitable gospel by living together with all our fellow members in the PC(USA).
At First Presbyterian Church we live out that fully inclusive church, welcoming all into membership and leadership, regardless of any label one may embrace, including labels of race, ethnicity, gender, or sexual orientation.
To read a note from Pastor Sue about the full inclusion of all people, click on the link below.